Complimentary Webcast Selling Annuities in a Volatile Market
Date: Tuesday, October 30, 2012
Time: 3pm ET | 12pm PT
Cost: FREE
Since 2008, the financial markets have delivered a string of catastrophe and unpleasant surprises sure to turn the stomach of even the most hardened investor.
At the same time, the Baby Boom has reached retirement age right when the money it was building up has been hit hard. Generation X has seen its retirement planning take a huge step backward as well.
As a result, it is safe to say that the days of working 30 years for a single company with a pension are long over. All of this makes for a compelling case for annuities, marketed as a stable solution for a volatile market.
Join LifeHealthPro.com and Agent Media for this live, interactive webcast, sponsored by Bankers Annuity, and hear from industry experts how to properly position annuities in your sales portfolio. Attend this online-only event to learn the keys to success in selling annuities in such a volatile market.
Featured Speakers

Daniel Williams
Editor-in-Chief
Senior Market Advisor
Daniel Williams is an award-winning journalist and business editor with extensive experience in print, online and trade shows. Prior to joining Senior Market Advisor, Daniel was editor of Real Estate Southern California magazine and West Coast South Bureau Chief of GlobeSt.com, both are divisions of Real Estate Media. Previously, he covered the commercial real estate beat for the Orange County Business Journal. While there, he received a certificate of merit from SABEW (the Society of American Business Editors and Writers Inc.) for a story on "OCs Cash Economy." A native of the Deep South, Daniel relocated from Los Angeles to Denver with his wife and daughter.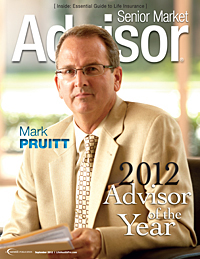 Mark Pruitt
CEO, President, Founder
Strategic Estate Planning Services Inc.
Founded in 1998, Strategic Estate Planning Services was one of seven Texas firms promoted by Forbes Magazine's Dec. 2010 issue and a 5 Star Award Winner for Best in Client Satisfaction by Texas Monthly, 2012.
Mark Pruitt produced over 12.4 million in 2011 and is 2012's Senior Market Advisor of the Year. His oldest client is 103 with the youngest in their twenties and all other ages in between. Mark uses Life Insurance, Long Term Care and Annuities to help his clients create Lifetime Income Streams that are protected.

Jeff Bucher
President & Co-Founder
Citizen Advisory Group
Jeff Bucher is the co-founder of Citizen Advisory Group and committed to helping area residents retire with confidence. He is an Investment Advisor Representative under AlphaStar Capital Management, an SEC Registered Investment Advisor, and has a life and health insurance license with the state of Ohio.
Jeff's membership affiliations include the exclusive Ed Slott Elite IRA Advisor Group™, National Association of Insurance and Financial Advisors (NAIFA), the National Association of Fixed Annuities (NAFA) and the Forum 400. He has earned Top of the Table honors through the Million Dollar Round Table (MDRT).